Over the past month, quite a few things have happened. Felt like a rather significant time for me (as lame as that sounds lol) since I'm the kind of person who likes consistency and stability.
Firstly, it was my birthday on the 10th of May. I turned 22. The novelty of being 21 was over and I guess you could say I'm comfortably in my 'early twenties' now lol. Feeling a little wiser haha.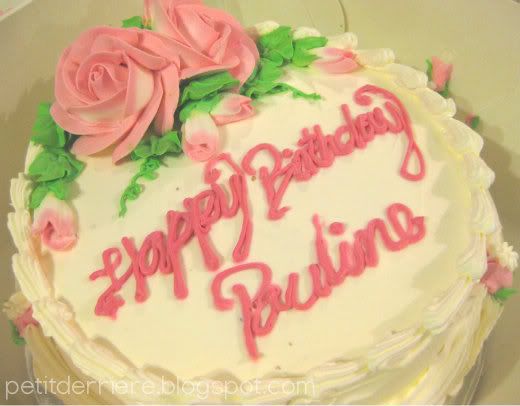 I got a hair cut! If you've been reading my blog for a while, a few months ago, I cut my long hair off and got a basic shorter style, well that had grown out a fair bit and it was in its in-between-meh-nothingness stage. I don't feel comfortable spending heaps on a hair cut, so I bought one of those discount vouchers off
OurDeal
for a cut at
Salon Te Pura
in Ascot Vale which also included wash, treatment and blow wave.
My hairdresser was George and I found out he was the manager of the salon. I pretty much always go into a hair salon with photos of what I want but for some reason I didn't this time. I told George that I wanted my hair shorter and just touch my shoulders and a side fringe. He suggested I get a more 'solid' style (as opposed to my layers) and have the back shorter and have it subtly and gradually get longer in the front. I was definitely a bit concerned with the idea as it's different to any other style I've had in the past but he convinced me it would be a lot more flattering. He was right lol. It's a bit edgier and fuller with more volume. I love love love the cut! It really does flatter my face much more than what I had before. So I was over the moon about most of my hair but what I didn't like was how he cut my fringe and particularly how he styled it. I was put off by the fringe so much that I had to pin it back for the rest of the day (since I got the haircut in the morning) and I
never
pin my fringe back. I really don't know what he was thinking there...but the day after I fixed and re-styled my fringe and it was fine. Here are a couple of pics a couple days after the cut.
Note to self
: need to learn how to blow dry my hair as good as a pro lol. Couldn't even get close to the volume and shape he achieved on me.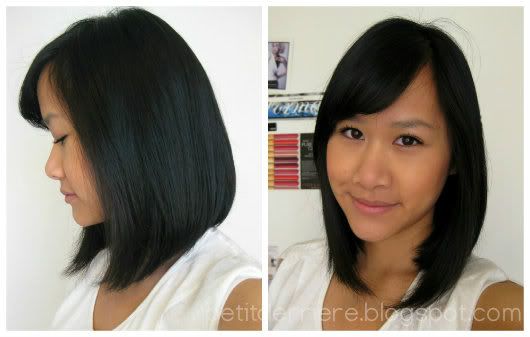 Lastly, retail and
Diva
have been a huge part of my life. It was my first job ever and I'd been there for 3 years. Resigning was a tough decision for me but I did and started working at
Nine West
late April. It definitely felt like a shock at first and quite frustrating, since I was going from being a veteran who knew how every little thing worked, to a total newbie. I'm settling in well now and getting used to it all. (I'll definitely be doing a post of all the Diva goodies I bought before leaving, there's a lot lol.)

Anyway, just hit midnight. Need to catch up on sleep! Studying for exams is a bitch... Goodnight!