If you know anything about the price of makeup in Australia, you would know that is it an absolute rip-off and is something I've ranted about on numerous occasions on my blog. So it really should surprise you that I bought a good amount of makeup while I was there.
I had so much fun checking out all the drugstores and I also visited the e.l.f Studio on Broadway which was awesome. And of course my trip wouldn't have been complete without going to Sephora. I absolutely loved it. Only downside was my holiday was during the weeks leading up to Christmas so the stores were always packed and super crowded. Definitely didn't help that I tended to visit the busier stores i.e. Times Square and the one near Macy's on 34th. Anyway, who doesn't love a makeup haul, so here we go!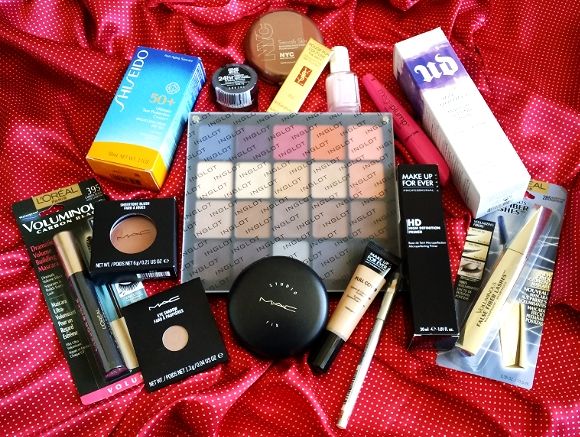 Shiseido Ultimate Sun Protection Cream SPF 50+ for Face
Maybelline Color Tattoo 24hr Cream Gel Shadow - Barely Branded
NYC Smooth Skin Bronzing Face Powder - Sunny
YSL Rouge Pur Couture The Mats Lipstick - 202 Rose Crazy
Essie Nail Polish - Fiji
Urban Decay All Nighter Long-Lasting Makeup Setting Spray
L'Oreal Voluminous False Fiber Lashes (Waterproof)
Make Up For Ever HD Primer
Maybelline Color Sensational Lip Liner - Clear
Make Up For Ever Full Cover Concealer - 7 Sand
MAC Studio Fix Powder Foundation - C4
MAC Eyeshadow - All That Glitters
L'Oreal Voluminous Mascara (Waterproof)
MAC Sheertone Blush - Gingerly
Inglot 20 pan palette (empty)
Inglot Eyeshadows x 3 (most of the shadows I already owned)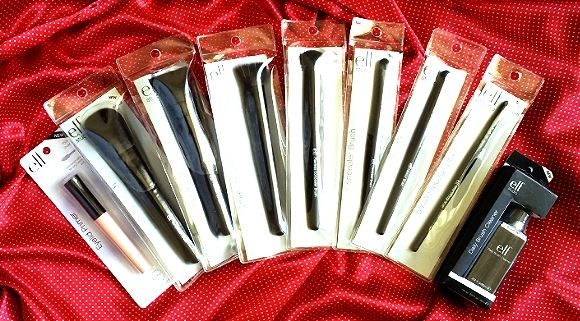 e.l.f Eyelid Primer
e.l.f Studio Complexion Brush
e.l.f Studio Powder Brush
e.l.f Studio Small Stipple Brush
e.l.f Studio Flawless Concealer Brush
e.l.f Studio Concealer Brush
e.l.f Studio Contour Brush
e.l.f Studio Small Smudge Brush
e.l.f Daily Brush Cleaner

Hope you enjoyed having a peak at my new stuff. I will have reviews for some of these items up in the future. I'm contemplating whether or not to post a haul for all the clothing/accessories I bought. Anyway I'll see how I go. Have a good weekend!