I am in looove with this colour at the moment. I've been searching for a nice rose gold polish for a while. As far as I'm aware, a lot of the commonly suggested rose gold polishes (e.g. Orly - Rage) are not available in Australia.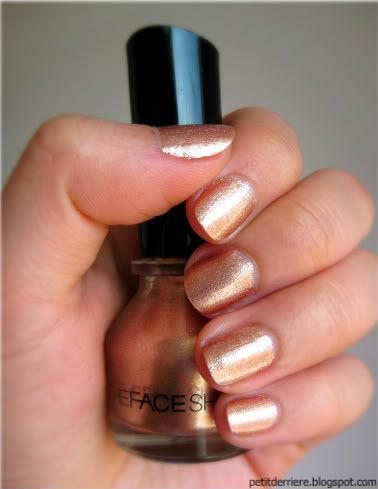 This polish is in the same colour family but not quite rose gold. It's a metallic, pale-ish, golden shade but has pinkish tones like rose gold. (I don't think the photo is really picking up the pink tones). It's a pretty subtle colour but super shimmery/sparkly and metallic which I love. Foiled polishes have to be my all time favourite. This polish takes 2 coats to be totally opaque. Unfortunately The Face Shop polishes aren't very good quality. They start chipping on the 1st/2nd day of wear, but for $3 you can't ask for too much I guess lol.

Hope you're having a great start to the week!