Just a little something cute and girly =)
I used
OPI
's
Suzi and the Lifeguard
(3 coats). It's a pale cool pink with slight shimmer. It's pretty sheer hence I needed at least 3 coats to get it looking more opaque.
I love using nail lace stickers, so easy to use! All you need to do is cut the strips into size then stick them on!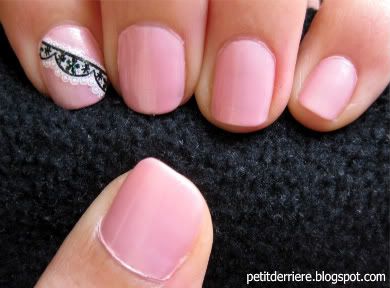 By the way for those who are interested, the result for election is... there was no result LOL Apparently this hasn't happened since WWII! Basically the votes were sooo evenly split that no one was able to gain a majority of seats. So we have to wait a couple of weeks for the candidates to do a bit of wheelin' and dealin' before a result is determined. Crazy huh? (Don't ask me too many questions about this because I really don't know that much about politics lol)
Have a great night guys!