I've finished some more products from my Moisturiser Intervention. (Click
here
for the original blog post).
Clinique Anti-Blemish Solutions Clearing Moisturizer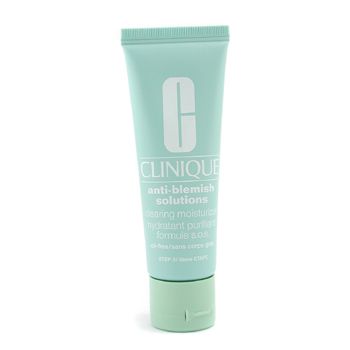 I used this as a morning pre-makeup moisturiser. It's very light and absorbs really quickly. I do enjoy light moisturisers in the morning especially since my skin is oily, but I think this moisturiser may be a bit too light and not moisturising enough, particularly in winter. It would probably be better for me in the summer.
As for clearing my skin, I didn't really feel like it reduced my pimples or anything. That being said, I only had a sample size so I didn't get to use it for long.
Overall I like it, unsure if I will purchase a full size since it is a bit pricey but I am curious to see if it helps with my blemishes.
Olay Moisturizing Cream for Sensitive Skin
I really liked this moisturiser. I felt like it was a happy medium between the light moisturisers I like using in the morning and richer moisturisers I use after I shower. I especially liked it during the summer when it was just way to hot to slather a really rich moisturiser on after showering or before bed.

Nothing else to really say other than I like it and would consider repurchasing.
Hope you're enjoying your weekend!