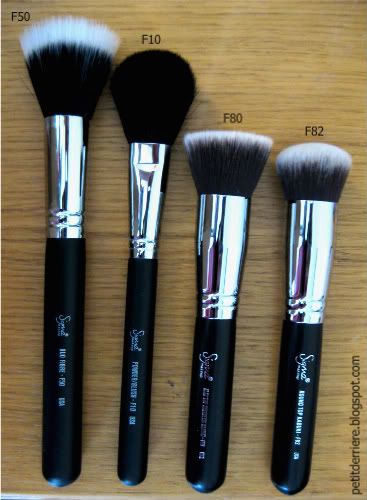 Everyone constantly talks about Sigma and how great their brushes are, especially the new Sigmax ones. Also for such decent prices, compared the the prices charged here for brushes (and makeup in general), I was really interested in trying these. I made this order about 1.5 months ago.
Shipping & Delivery

I purchased 7 brushes (4 of which were for me). The shipping cost came to $19.36 AUD, which is pretty expensive, but if you consider how much it costs to purchase quality brushes here, splitting the $19.36 across 7 brushes really isn't bad. It took between 1.5-2 weeks to arrive which I find is pretty standard with overseas orders to Australia.
Review


F50 Duo Fibre
- Before purchasing this I had only tried one other stippling brush, the

Silver Duo Fiber Stippling Brush

by

Coastal Scents

. That one I found too flimsey to buff in foundation and it shed a lot. This on the other hand I really enjoy. There is a nice firmness to it and it is bigger than the Coastal Scents one so it stipples foundation on really well. It is pretty good to buff liquid foundation too due to its firmness. But once you've tried the

F82

for buffing...omg...you will never go back to using stippling brushes for this purpose. Believe all the raves!


F10 Powder/Blush - A nice regular blush brush. A good size for blush or contouring. It's soft, not as soft as the below 2 brushes but it's still soft. A good basic brush.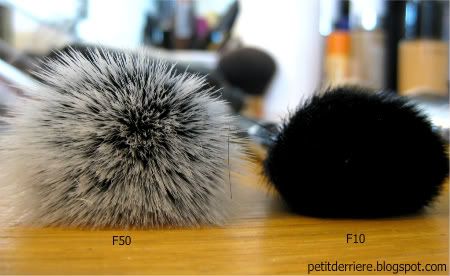 F80 Flat Top Synthetic Kabuki - This and the

F82

are SO soft and SO dense. I've been using this brush for mineral foundation and it buffs it in so quickly and so easily.

Due to its flat top, it covers more surface area than the round top one. So it's perfect for mineral foundation.



F82 Round Top Synthetic Kabuki - As I said above, this brush is very soft and dense. Due to its cut/shape, it is kind of firmer than the flat top. Its density is exactly the same, but I think it is due to the outer bristles being shorter, they kind of support the inner ones keeping it more firm...if that makes sense. I use this to buff in liquid foundation. When I saw people on Youtube using this brush with liquid foundation, I was really skeptical, I just thought there would be a lot of waste, the brush would just soak up all the foundation and it would be really gross. But I was totally wrong. The bristles are just so fine and dense that the foundation is contained at the tips, the brush does not get soaked through at all. Unlike buffing with a stippling brush, there are no streaks so you don't have to spend time evening it out. What I like to do now is stipple foundation on with the

F50

then buff with the

F82.

I find the curved top allows you to get into the small grooves around your face such as the sides of your nose and inner corners of your eyes really well.