Over the past year or so,
Australis
, has been revamping their products and image and they've come out with a bunch of new things, one of which being their
Ready Set Go Finishing Powder.
It costs $12.95 at Priceline but you can definitely get it for cheaper if you wait for a sale (which is what I always do lol).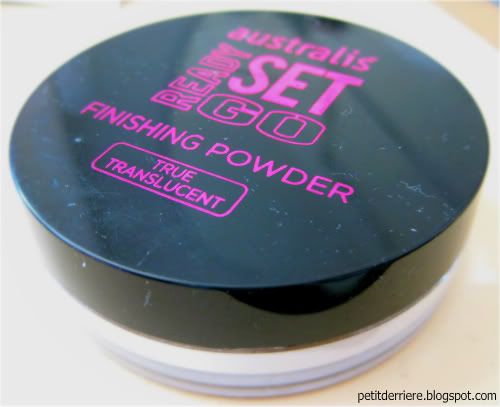 The Product
It is a fine white loose powder which goes on translucent. It feels super smooth, kind of...velvet-y? Satin-y? Not sure how to describe it but it feels like primer but on top of your makeup. It helps to mattify your skin and also makes your skin appear smoother. You really only need the tiniest bit even when applying it to your whole face.
How I use it
- Why I like it
The main purpose I use this powder is to prevent my mascara from smudging. It doesn't matter what mascara I use, I will get some level of smudging, even if it's waterproof. I like to use my finger to apply it under my eyes and it really helps with my smudging situation. Sometimes I just use regular face powder, but packing that on can look a bit cakey or make your undereye area look dark. So I love it for this purpose.
I also like to dust it over my whole face after applying makeup. Especially when I'm using mineral makeup because I find that I get oilier faster. This helps to keep it matte for longer. But doesn't completely prevent it since I have really oily skin.
When using cream blushes, you can use this to set the blush if you don't want to use a powder blush on top.
Why you may not like it
Despite it being "translucent," I think on darker skin tones it could give off a white-ish tinge to your skin. Also, in photos it can also give a white tinge. As I found out recently, since I like to pack a fair amount under my eyes, that area turns white in flash photography lol. But if you only apply a little bit, like a dusting all over your face, (you don't need much anyway), it looks fine.
I wish the sifter had one of those sliding covers that you can slide over the holes after each use, like the Everyday Minerals products.
Concluding thoughts
Overall, I really enjoy using this product, I use it on a daily basis at least for my undereyes. I don't think I'll be needing to repurchase this any time soon because there is so much product in one container and I use very little each time.