Recently I decided to give my skin a bit more attention. I had been using pretty much the same products for a while and not seeing many results. So it was time to change things up. I have never really gotten into Asian cosmetics or skincare. But my friend is an absolute Asian product junkie (yes, you know who you are lol). So she convinced me to give it a try, plus it was all pretty cheap.
Anyway, so we bought a bunch of stuff off
Gmarket
. It's a site that sells all kinds of Korean products including makeup, skincare, clothes, shoes, food, etc. From what I understand, Gmarket is a site that makes all different brands available to consumers in the one place. So when you order things from say Brand A and Brand B, those companies will ship your products to Gmarket, which will then put everything together in one box and ship it out to you.
I purchased 5 skincare items and threw in a couple of makeup items. I also received a few samples but forgot to take photos of those.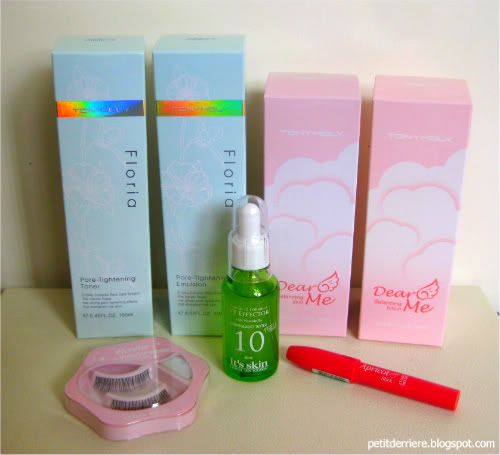 Tony Moly

Dear Me B

alancing Lotion

Ton

y Moly

Dear Me Balancing Skin

(toner)

Tony Moly

Floria Pore - Tightening Toner

Tony Moly

Floria Pore - Tightening Emulsion

(moisturiser)

It's Skin

Power 10 Formula VB Effector

(serum)

Etude House

Apricot Stick #3

Etude House

Wonder Volume Lashes
I've started using the two products from the Dear Me line, the It's Skin serum and the Etude House Apricot Stick. I'll do separate posts on what I think about the products further down the track.
Shipping time wasn't too bad. Don't quite remember how long it took, I think it was around 2-3 weeks. The packaging was definitely a bit excessive. The box it came in was massive, so was only like a third full (it was not fun carrying that on the bus, believe me lol). There were heaps of little boxes (from all different brands) inside and a ridiculous amount of bubble wrap lol. But at least that meant everything arrived safely.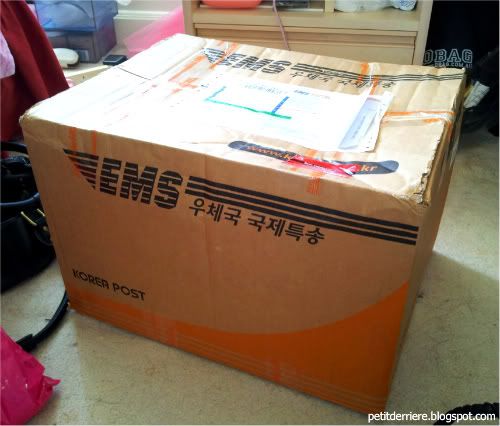 Anyway I should stop procrastinating. This mid-semester break went by WAY too fast.