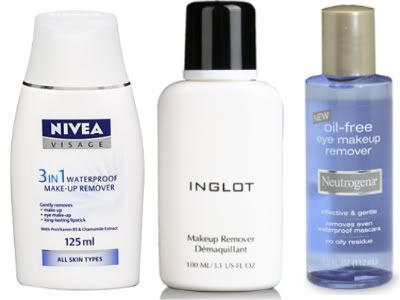 I am so backed up on posting and over the last week I was feeling really motivated to blog but my dad borrowed my camera since some of my relatives have come down to Australia. So I had to think of a post that didn't require photos.
Anyway, so I will be reviewing and comparing these 3 makeup removers on how they perform as
waterproof eye makeup removers
(mainly wp mascara). All of these are waterproof makeup removers.
Nivea Visage - 3 in 1 Waterproof Make-Up Remover
Price
approx. $9
Size
125ml
Consistency
cream
Claims
Gently removes make up, eye make-up and long-lasting lipstick
This remover is absolutely hopeless and I very rarely hate a product. It does not remove a thing. After applying some of the product onto a cotton pad, holding it over my eye and then lightly rubbing, the pad was
completely
clean. Not even the slightest black smudge. When you start
scrubbing
at your eye, your waterproof mascara will just
begin
to come off. So really, the product does not do anything, it is the fact that you are scrubbing away that is removing the product. This remover leaves your face a bit oily.
I do not recommend this product at all.
Neutrogena - Oil-Free Eye Makeup Remover
Price
approx. $11
Size
112ml
Consistency
liquidy
Claims
Effective & gentle, removes even waterproof mascara, no oily residue
This is the most recent remover I've bought and I am very happy with it. It feels very light and removes wp mascara well. Of course you need to rub at your eye a bit but no dramas. I definitely agree that it feels gentle (but then again I don't really have sensitive eyes). Like it claims, it does not leave an oily residue. Maybe if you're being
super
critical, there is a tiny bit of residue.
Overall I highly recommend this, it is very effective and very affordable.
Inglot - Makeup Remover for Waterproof Makeup
Price
approx. $15-20 (I don't quite remember)
Size
100ml
Consistency
bit oilier than the Neutrogena remover
Claims
(Nothing written on the bottle)
I really like this remover. It removes a bit better than the Neutrogena and feels a bit smoother when you rub your eye. However it leaves a really oily residue. I know a lot of people don't like this but I always wash my face with a cleanser after removing makeup anyway so it's no problem for me.
Overall
I recommend both the Neutrogena and Inglot makeup removers. They both remove makeup effectively but the Inglot is slightly better. However the Neutrogena is much more affordable, accessible and doesn't leave an oily residue.
If you guys have any makeup remover recommendations I would love to hear them. I still want to find the ultimate wp mascara remover lol.
Anyway hope this post helps!