It has definitely been a while since my last post. I've been ridiculously busy with mid-sem exams and assignments, before that I went to Commerce Ball which was a uni event, plus my 21st birthday is on Tuesday (tomorrow!) which is crazy exciting =) So I've been busy organising my party which is this coming weekend, it isn't going to be huge but I've just been occupied with following up rsvps, venues, decorations, etc.
Anyway, back to the main point of this post. I bought these shadows a long time ago, sometime last year and I believe the 5-square-pan palette (including the shadows) cost me about AUD$45.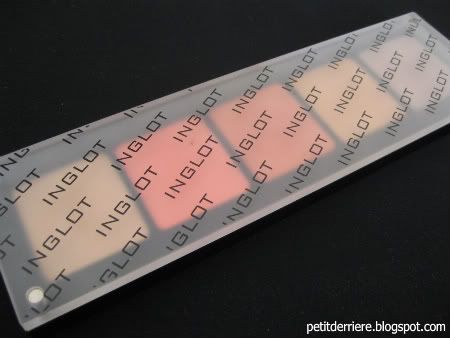 If you've read my past post about Inglot shadows you would know I LOVE them. They are so easy to blend, smooth, super pigmented and much cheaper than other high end eyeshadows.
I've tried to edit the photos so they are as close to how the products appear in real life. (This is another reason why I take so long to do posts lol)
In this palette I got the following shades (left to right):
DS 463, Matte 361, Pearl 407, AMC Shine 34
and
Matte 390
.
DS 463
is a flesh toned creamy shade with sparkle. I say 'sparkle' because it isn't chunky glitter but it also isn't fine like a shimmer. The photo is kind of making it look really sparkly, but it's more like a matte with added sparkle if that makes sense. Out of the shades I picked, I would say that this is one of the most pigmented ones.
It is great used as a subtle highlight since it isn't like a stark white or cream.
Matte 361
is obviously a matte shadow. It is a nice soft pinky peach shade. It was a bit of an impulse choice since I had never owned a pink shadow and never even thought about wearing pink shadows but this one was just so pretty especially with the peachy tones. Most of the time you only see regular milky pink shadows so I thought this was unique. It does not go on as pigmented as it is in the pan, is gives off a paler colour on my lids. That being said, it is still pigmented, just not as much as some of the others.
Pearl 407
is a beautiful soft peachy orange shade with a lot of gold shimmer. The shimmer makes the shade a much softer which makes this the least pigmented out of the five to me (again that does not mean this isn't pigmented). On the lid, you do not get a punch of the peachy orange colour, you get a lot of the gold shimmer and a touch of the colour. I was completely obsessed with this colour when I first brought it home.
AMC Shine 34
is a shimmery gold shade. I love it because I think it's the perfect gold, like it's not too yellow or orange. It isn't going to give you strong metallic gold colour, it is a bit softer than that. I love using this on the inner corners of my eye.
Matte 390
appears to be a light, soft brown shadow in the pan, but on me it appears more taupey which you can kind of see in the swatches below, although I think the swatch makes it look more taupey than in real life. Obviously it's matte. I think this is beautiful for a neutral light eye look. I love using it as a light contour in my crease area or to blend out darker shades. This is one of the more pigmented shadows in the bunch.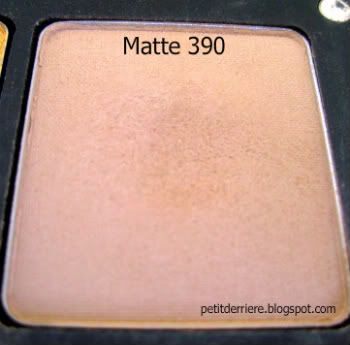 Here are some swatches...man I really don't like how the macro setting on my camera picks up the scaliness of the skin on my hand lol.
Hope you all have a great week!