Hey guys!
These are the only 2 Nars blushes that I own. I'm am hoping to get Desire next. Anyway, I've had these for quite a while now but never got around to doing a review. But here it is!....finally.
Orgasm
was the first blush I bought due to all the hype. I have done a short review on it before (click
here
if you want to read that). But here's a slightly more in depth review.
This is a peachy pink blush that is loaded with gold shimmer. The shimmer really adds to the peachy tone. If you like a glowy look, you will love this. The shimmer is really fine so you get more of a sheen. I think this is a beautiful blush, however I do have a preference for matte blushes, so I have been reaching for
Amour
more. I don't find this to be a super pigmented blush, but that is just the nature of it. Due to the large amounts of shimmer, you aren't going to get amazing colour pay off after one swipe. That being said, it's not like you have to scrub away at it either. It it still pigmented, just not super pigmented, you just need to work a little more than you would with
Amour
for example, since that has no shimmer you just get colour pigments. This blush looks amazing on its own but it also looks good on top of other blushes if you want some added golden glow. Also really good for those days when you look blah...this really makes you look more radiant.

Amour
is a bit harder to describe I think. In the pan...it looks like a medium, dull (as opposed to bright) pink. On, it's a medium pink with kind of coral undertones and looks more vibrant than in the pan. However you describe it, it is a beautiful colour. Like I mentioned before, this is a matte blush. It looks so smooth on your skin, doesn't look cakey or powdery or anything like that. It is so pigmented, I like using a stippling brush to apply it so I have more control building it up. I have medium skin, so if you have paler skin definitely be very careful applying it. I absolutely love this blush at the moment. It has been my go-to blush for the past couple of months through winter and has become equal with my beloved
Revlon Floral Affair Collection
blush in
Pinking of You
. (That has been a favourite blush of mine for a long time. I am in LOVE with the colour, however its pigmentation and lasting power falls short. Click
here
if you want to see my review. If you know of a better quality colour dupe for
Pinking of you,
please let me know!) Overall love this blush. After trying this, I really want to try other Nars matte blushes.
Here are some comparison photos: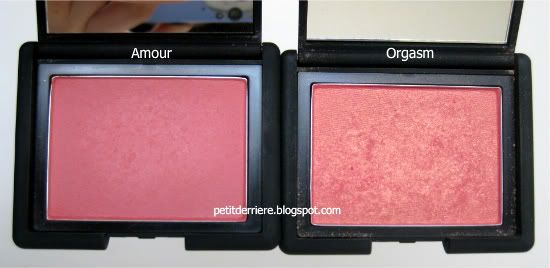 That is all for this review. By the way...anyone notice this is my 100th post? =P