As far as I know,
Coral Berry
is one of the newer shades within the
Revlon Super Lustrous
range. I had been pondering over whether I should buy it. My best friend went out and bought it for me (thank you!).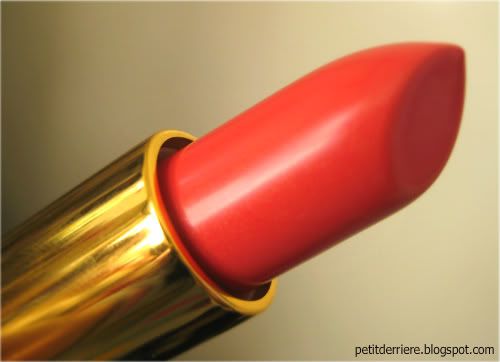 This is actually my first ever lipstick from their classic, permanent Super Lustrous line. Funnily, I have been a Revlon lipstick fan for ages and have bought lipsticks from their Matte line, Colorburst line and even their Renewist and Beyond Natural lines which were discontinued ages ago, but never bought one from their Super Lustrous line.
Anyway, Coral Berry is a really pretty pinky coral. I was concerned that it would turn out too orange which wasn't what I was looking for. I hoped it would have some pink tones to it which it does. I like to apply it quite lightly (pictured below) and that way the pink tones to it are more obvious. It's not a full coverage lipstick, it has a medium level of pigmentation. The more you build it up, the more coral and full coverage it appears. There is a tiny bit of really really fine subtle gold shimmer. I didn't even realise there was any shimmer until I held the lipstick in the light. On, it's barely noticeable at all.
A great colour to try as the weather is heating up for summer =)
Mini Update
I have been so tired and busy over the past month or so. I am in the middle exams at the moment, only one more to go until freedom (well at least until next semester starts lol). I've also been kind of getting a start on my career ("career" - such a scary word isn't it? when you start looking at your career you know you're growing up lol). Anyway so I've been attending programs and things like that. I'm behind in a lot of posts as always. I've done a fair bit of shopping lately so I want to share my purchases. As you guys would have noticed, usually I take pictures of the clothes on me so you can get a better idea of what the pieces look like, but I'm finding it a bit time consuming so I might just take pictures of them on the hanger. Tell me your opinion if you have one about that.
Anyway, have a great week!