Hey guys! Over the past few months I've collected some items which were either really cheap, on sale or on clearance. So I thought I'd show you and give a little review.
First up are these
Australis
blushes. I think this brand is just sold in Australia, but I'm not too sure...I had never really considered trying their products but Priceline had a bunch of Australis stuff on sale for $2.99AUD (the blushes are originally I think around $8-10), and me, who can never resist clearances, had to grab something. I must say I am very impressed. I bought
Pretty in Pink
and
Smitten
. I believe these shades aren't available anymore but I'm sure the new colours have the same quality. Both of mine are soft, smooth, pigmented with very fine shimmer. So be careful you don't get carried away with swirling your brush in them otherwise you'll end up with doll cheeks lol. Overall very happy with these and I am really excited about trying other Australis products.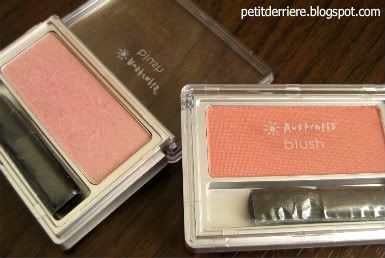 I also bought 2
JQC Cosmetics
eyeliners from Groove. I got it in
white
and
silver
. I got them last Friday since they were on buy one get one free so I paid $3 for the 2. This is a cheap brand which I think is only available at Groove and Ice Accessories. I really don't like the white one, it's not creamy or pigmented and doesn't glide on. The silver one on the other hand is WOW. It's so pigmented and metallic, you don't need to apply much pressure at all and it is very smooth.
Last I got 2 brushes from
Sportsgirl
. They were on sale for around $5 each. I got the
Brush with Fame Cheek Brush
and the
Brush with Fame Kabuki Bronzing Brush
. They are SOOO soft! I'm in love with the kabuki brush, it's dense but soft and I use it daily to buff on pressed powder foundation.
So I definitely recommend you guys try these or any other products from cheaper brands or clearance items because you never know...you might stumble on some treasures =)