I first heard about the
Travalo
from
Hollyannaeree
. Call me crazy, but before watching this video, I had never seen or even heard of perfume atomizers.
I was really interested in this product because I'm almost always late and in a hurry in the morning and I often just forget to spray on perfume in general. So this little travel vial would be perfect for me. Not to mention the cool pumping mechanism lol
Anyway, I found these Travalos at
Perfume Connection
in Harbour Town for around
$25 (AUD)
. But my friend was able to get it for me at a cheaper price off ebay for around
$13 USD
. With the recent exchange rate, this was a great deal.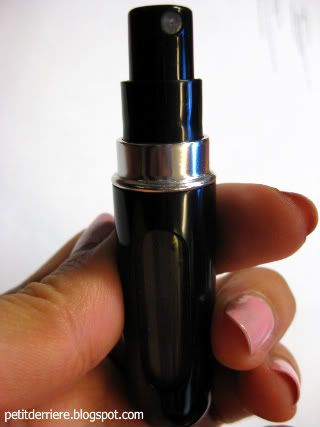 I've been using it for the last couple of weeks and I LOVE it. It was easy to fill, doesn't leak, perfect size, so practical, travel friendly and looks very sleek. Although I did have a problem with it in the beginning. The reason I got the Travalo in the first place was to use with my
Christina Aguilera By Night EDP
. To my dismay, when I pulled the cap off the bottle, the little stem that you kind of attach the Travalo to was not there and therefore my Travalo was useless. It wasn't until later that I realised the stem was attached inside the cap. Then I had to use a small pair of pliers to detach the stem from the cap and reattach that to the bottle before I was able to fill my Travalo. So my point is, if there is a particular perfume that you want to fill your Travalo with, make sure the cap of your perfume can come off and it has a stem lol.
Overall a great product and great idea.