Hey guys!
I got my hair cut about a month ago (yes I'm slow with updating lol). My hair was really really long and it was the first time I had ever grown my hair out to that length and it was still healthy. In the past when I tried to grow it out, my ends would get all dry and I would have to keep getting it cut so it never got that long, but due to some small changes in my hair routine, I was able to keep it feeling good, so it was a bit sad cutting it all off.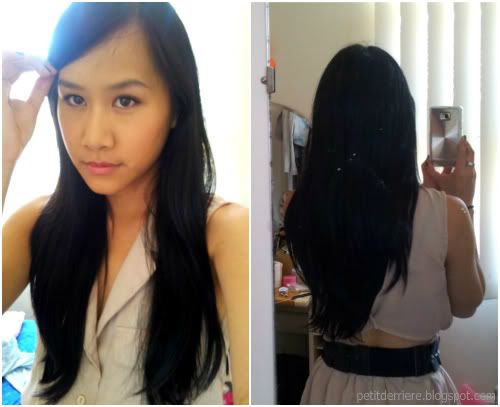 Anyway, Summer over here was just getting too hot and having all that hair swishing around was beginning to get on my nerves. I had had long hair for so long so I went and got the chop.
I brought a picture of Heidi Klum with me. I wanted a shoulder length hairstyle where the ends were cut a bit more bluntly so it had a more edgy feel as opposed to really tapering in and looking very chic-bob-like. So I asked my hairdresser to cut my hair like the picture and to add a side fringe.
What do you think?
I love it! My hair is so much more manageable now. I didn't walk out looking like Heidi Klum (I wish...lol) but still loving it! That was a picture I took straight after I got it cut. My hairdresser curled the ends in a fair bit that's why it looks more bob-like, but when I straighten it out a bit, it does look more like Heidi's haircut.
If any of you guys are interested, I got my hair cut at
Millennium Salon
in
QV (Melbourne)
and my hairdresser was
Stella
. It was my first time at this salon and I had a great experience. The staff were all really friendly and I felt that Stella really listened to what I wanted and did an awesome job.