Sorry it's taken me a while but finally getting this post up. I was doing a unit over the summer at uni, so I was busy studying for the exam and I underwent surgery to get all 4 of my wisdom teeth out yesterday, so my face is still all swollen. Anyway, let's get into the bargains!
Mossman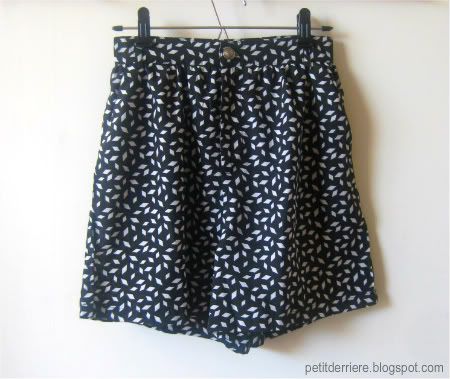 Aren't these high-waisted shorts the cutest? I really like the white diamond pattern on them. They aren't the most flattering thing in the world since they poof out around your tummy, bum and hips but I still wanted them lol.




I rarely go shopping in Jeanswest but when I went shopping with my best friend, we stumbled over one of their outlet stores which contained all heavily discounted stock with an additional 40% off!




This coat is so thick and warm and amazing quality. It was an absolute steal! It's a very baggy type of coat so will definitely need to be worn with fitting bottoms to balance it out. Will definitely be wearing this a lot in Winter.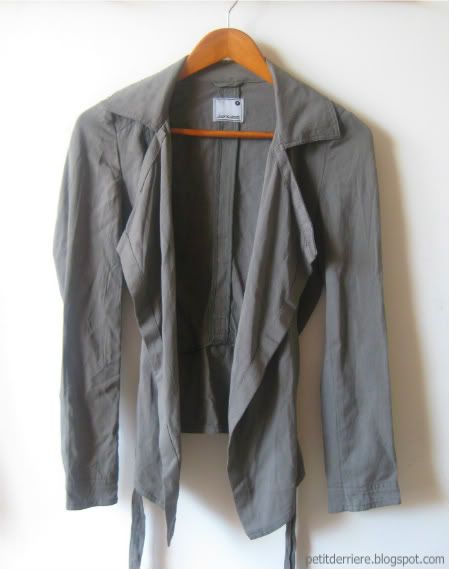 I've been wearing this light jacket a lot since I bought it (hence all the wrinkles lol). It is so perfect for the warmer weather, great to bring along in case it gets a little chilly in the evening. When you tie up the waist-tie, the jacket can look fairly dressy so it's a really versatile piece.




I have a thing for feathers, so this scarf really was a no-brainer lol. I wear a lot of basic plain tops so I thought the colours in this scarf would be a good pop of colour for my outfits. This scarf was also on sale like everything else I got, but on top of that it was buy one get one free, so my best friend grabbed one too.


I love the look of maxi skirts on many people but was never really sure if it would suit me since I'm short with stumpy legs lol. This was really cheap so I thought I would take a chance and stay safe with a black coloured skirt. It's not very clear from this picture, but if you look closely on the left side of the skirt where the sun is kind of shining through it, it's actually one of those 2-layer skirts where there is a shorter opaque under layer and a sheer top layer, I've also been really liking this trend, so also wanted to give it a go. I've worn it a few times now, I quite like it but it is a bit of a tripping hazard haha. I may need to get it taken up a bit.


I've been looking for a good quality basic blazer. I love Cue clothes but they are often way to expensive so I was really happy to find this blazer on sale that fit me well. (I must say this photo makes it look quite boring n shapeless...but trust me it looks way better on and in person.)
If you recall from a few posts back, in my "Pre-Christmas Shopping" post, I bought a clutch from Forever New. Well...I couldn't help myself and they had so many pretty ones on sale so I bought some more.




This clutch is absolutely gorgeous, the photo really does not do it justice. The gold and pearl beading is stunning. The only downside would have to be that the beading is only on one side so you have to be wary of which side you have facing out.




The fan shape of this clutch is so unique. The lace makes it more feminine but what really sold it for me was the rose gold chain tassle on the zipper lol. Darn, I forgot to take a close up photo of it haha. As you can tell I also have a thing for tassles.
Joanne Mercer

Over the past year or so, I have definitely developed an obsession with Joanne Mercer shoes. There is a store near where I work and it's also a half outlet store so it's really convenient for me to go to (especially on my lunch breaks =P) and there are usually some good sales going on. A lot of their shoes are really good quality, all the shoes I've bought from them have been made from real suede/leather. I also find that their heels fit me better than other brands. I have very wide feet, so finding some that fit and are reasonably comfortable is sometimes diffcult.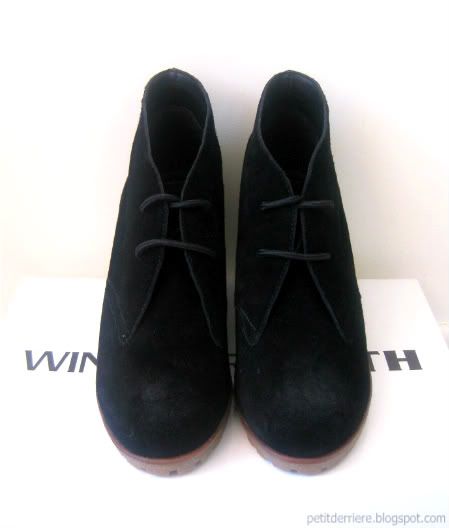 Cory.

If you have been following my blog for a while, you would know I bought these guys in a caramel suede for full price. (Click here to visit that post). Well I absolutely loved them so when I saw the same boot in black for under half price, I almost fainted. It's going to be so handy having both colours. Love love love!






Yamelia

.

I spotted these sandals about a year ago when they were full price and I just didn't think it was worth spending that much. Then they kind of just disappeared off the shelves. So you could imagine how surprised I was when I found these a year later on sale lol.
Kally
. You can't really go wrong with a basic pair of black leather pumps. These are super duper tall. Haven't had the chance to wear them yet but when I do hopefully I don't hurt myself lol.