About a month ago, after my semester 1 exams finished, weary me wandered off to Lush on Swanston St to unwind lol. This was my first time purchasing Lush products. I was served by a lovely sales assistant named Mel. She was extremely bubbly and helpful and introduced me to a lot of products.
In the end, I walked away with 3 products:
Mask of Magnaminty, Tea Tree Water
and
Charity Pot.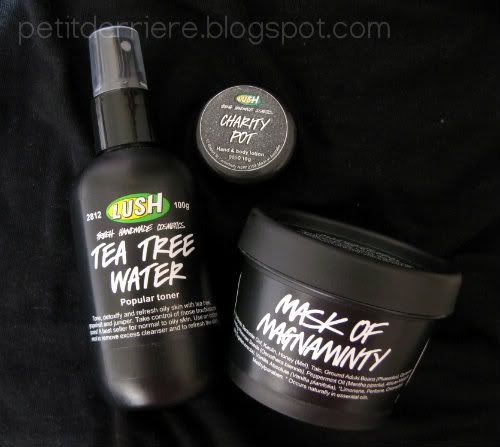 Mask of Magnaminty (face mask)

125g $15.95
Over the past few months my skin has been playing up, I've been getting big blind pimples much more regularly . This mask is aimed at deep cleansing and unclogging pores and the sales assistant told me that this mask also targets blind pimples well.
This mask has a strong smell of peppermint mixed with a hint of tiger balm (lol). Once on your face, it gives your skin an extreme cooling sensation. The first time I used the mask, the cooling was almost painful, but now I'm used to it.
I've used this once a week for 5 weeks now. I cleanse my face, apply the mask and leave it on for about 10-15 min then jump in the shower and wash it off. I haven't noticed any improvement with my blackheads or any decrease in my regular breakouts. As for the blind pimples, I think they have reduced slightly. It removes all the dead skin and exfoliates well. It definitely leaves my skin feeling very fresh, soft and clean.
I will continue to use up the tub, but I'm undecided whether I will repurchase it since it hasn't helped my pimple issues much but I do really like how it leaves my skin soft and fresh.
Tea Tree Water
(toner)
100g $7.95
I'm not a huge fan of the tea tree scent so thank goodness this only has a mild scent. It's a very gentle toner, doesn't sting, even around my eyes.
I apply it by spraying it about 3 times onto a cotton pad and wiping it over my face after cleansing. It hasn't really helped with my blemishes but I have noticed my skin getting less oily which is great. Although it is mid-winter at the moment, so the real test will be when summer comes around.
Charity Pot
(hand and body lotion)
Mini size $2
This stuff smells soo good. It's cocoa-y, creamy, light scent. A good basic body lotion.
In addition to those 3 products, Mel also gave me samples of 2 products that I was really interested in but held back just because I didn't want to get too many Lush products at once and I was doing lots more shopping that day lol. I got samples of:
Lemony Flutter Cuticle Butter
and
Ro's Argan Body Conditioner.
Ro's Argan Body Conditioner
I loved the idea of this product. It's meant to be used like a hair conditioner, but for your body. So you apply it all over your body while in the shower then rinse it off. I am really lazy when it comes to moisturising my body, I almost never do. So this seemed like a faster and easier way to moisturise. However, I found it wasn't very moisturising at all which is a shame since the smell is so lovely and floral.
Lemony Flutter Cuticle Butter
This is aimed at softening cuticles and any other areas with harder skin. It is a really rich thick butter. The sales assistant gave me a mini hand massage with it in store which felt amazing. Despite how rich it is, I don't think it is a miracle product that will soften all the tough skin around your nails, nonetheless, I love it. I use it has a hand cream just before I go to bed. I don't usually like lemon scents, but for some reason I like this. I will definitely be buying the full size.
Overall a good first Lush experience. Will definitely be heading back.