I think it's safe to say that I have a bit of a geometric pattern obsession right now. For the past few months, I've been gravitating toward
anything
with a geometric or Aztec print. Seriously, show me anything with a triangle on it, and I'm there lol.
Statement necklace
-
Sportsgirl
- Original price $19.95
Purchase Price $4.95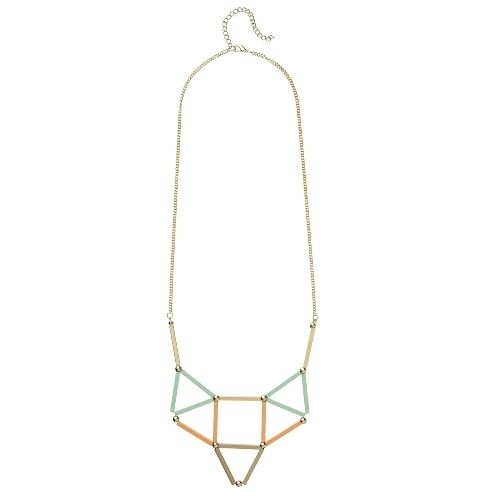 Photo from Sportsgirl website
I'd looked at this necklace on numerous occasions and wasn't sure if I should get it but my sister finally pushed me over the edge plus it was on further discount. The colours are soft, I love the triangles and it looks a bit like a fox's head which I thought was pretty cool.
Scarf
-
Sportsgirl
- Original Price $29.95
Purchase Price $19.95
I remember seeing this scarf when it was full price. I really liked the blocked colourful pattern but I thought $29.95 was too much to spend on a scarf like this plus I basically never buy anything full price. Then when I saw this in the sale section, I made a bee-line for it, but I wasn't so impressed when I saw the price tag. $19.95 is still expensive in my opinion for what it is, but I really wanted it.
Side story, in store it was always bunched and hung up, so it wasn't until about a week ago when I wore it for the first time that I noticed some of the coloured blocks resembled letters. I literally ripped the scarf off my neck, laid it flat and discovered the pattern actually spelt out "When in Rome." It seriously felt like I had decoded some ancient mystery, totally blew my mind lol.
Navy Batwing Long Sleeve Geometric Cardigan Sweater
-
SheInside
- Original Price $55.81
Purchase Price $26.40
Photo from SheInside website
I recently discovered
SheInside
which is an online store. It has permanent free international shipping and I found a 20% off coupon that also applied to sale items.
This cardigan was on sale. I LOVE IT! At first I wasn't so sure of the fit. A lot, if not all the clothes on the sight are one-size-fits-all, so I was concerned it would bee too big and boxy, but it wasn't. It's really baggy on me, but in a good way! I've gotten heaps of compliments on it too.
Have a great weekend!