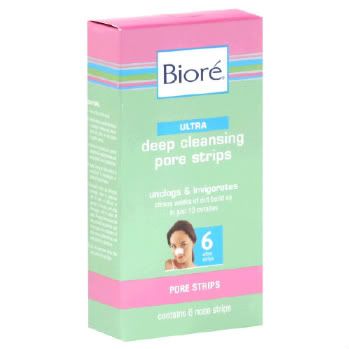 You know that typical scene in chick flicks...girl is just lazing around the house, when she gets an unexpected visit from the boy of her dreams. She opens the door forgetting that she still has a pore strip across her nose and is totally embarrassed when he points it out. Well that was what started my curiosity about these strips lol.
I have many many many blackheads/clogged pores (or whatever you want to call them) on my nose. So the idea that a product could just rip it all out in a single go was very appealing. So I decided to give the
Biore - Ultra Deep Cleansing Pore Strips
a try. My friend raved about them so I had pretty high expectations.
I've used these strips 3 times now. The 1st two times I tried them I was very disappointed. After pulling the strip off and inspecting it, I found that very very minimal dirt was removed. So before writing up a review on them, I decided to try them one more time. Surprisingly, this time was more successful. I'm not sure why...I may have applied it better? There was a fair bit of gunk stuck on the strip.
Overall I think these are just 'ok'. They aren't miracle workers, they don't remove all the dirt and all those big blackheads on your nose, just the smaller ones. But they also definitely aren't just a silly gimmick. I will probably continue to purchase.