Hey guys!
Sorry for the long wait but I am finally back and hopefully blogging much more often. Well this post is just going to be a short one. From one of my earlier posts you all probably know I work at
Diva
, which is an Australian fashion jewellery retailer. So here are a couple of new things I've bought from there.
I got this earring pack. I mainly bought it for the big aqua studs...they are GORGEOUS and i LOVE the colour. In the photo they're a bit dull, they are brighter in reality. The roses are cute too.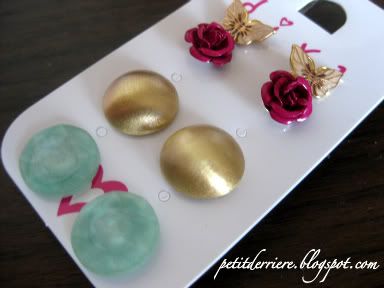 I also bought this bangle set. ALL these bangles are included in the one set. I'm really into gold and wooden kinda stuff. Thought these would be great to accessorise my summer outfits. We are heading into summer down here YAY haha