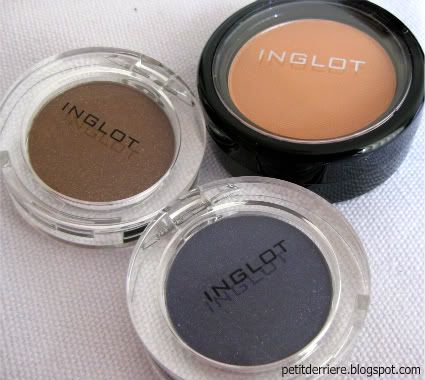 A few weeks ago I went shopping with my best friend because she was in need of some accessories and makeup for her ball. We stopped by Inglot and can you believe they had some things on sale!! It wasn't like a whole section or product on sale, just random items. So there were a few shades of eyeshadow, blushes, powders, pigments, etc. with little sale stickers on them. So I'm not sure if these sales are consistent through all stores in Australia.
Anyway I was pretty excited when I saw them. I had only bought a pigment, angled eye liner brush and makeup remover from them previously so I really wanted to try some more stuff. And how often do you see this stuff go on sale?!
First I bought 2
AMC Eye Shadows
in number
67
and
52
. (Yes it totally sucks that they don't have names lol).
They were originally I believe
around $20 AUD
but these were reduced to
$8
each. They have a net weight of
2.4g
.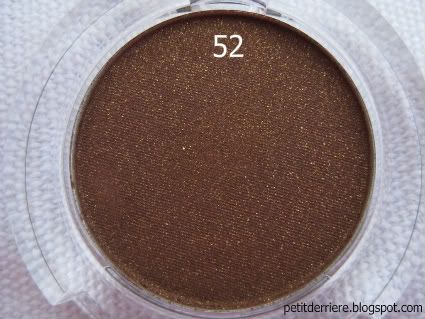 52

is a yellow toned brown shade with brown and gold sparkle/shimmer.





67

is a medium to dark indigo colour with blue and white sparkle/shimmer.
The reason I say "sparkle/shimmer" is that the flecks in it aren't fine enough to be shimmer as you can detect each individual fleck, but it's not chunky enough to be a glitter. I was somewhat disappointed with these as they only have reasonable pigmentation. When trying them in store with fingers they seemed really pigmented but when actually applying with brushes it wasn't amazing. I was expecting full-on pigment after hearing good things about Inglot eyeshadow. However I think it may just be this particular line of eyeshadows because my friend bought one of their Freedom System palettes and the pigmentation on those was absolutely stunning. Nonetheless, if you apply some base or primer they turn out pretty well.
I also bought a
Face Blush
in
26
.

This is a matte light peach shade.
The blush was originally
around the $20-25 mark
as well I think (sorry I've forgotten all the prices) and was reduced to
$6
!! It has a net weight of
2.5g
which isn't very big at all which is a shame. The pigmentation of this is amazing and so smooth! I've been looking for a cheap straight peach blush for ages (no shimmer and no pink tinge). On my yellow toned skin, the peach colour is definitely more subtle than a pink. It makes me look more tanned. The only downsides would be the quantity which I mentioned earlier and also the packaging. It comes with a screw top lid, I would much prefer a flip top since I tend to misplace the lid lol.
That's everything!