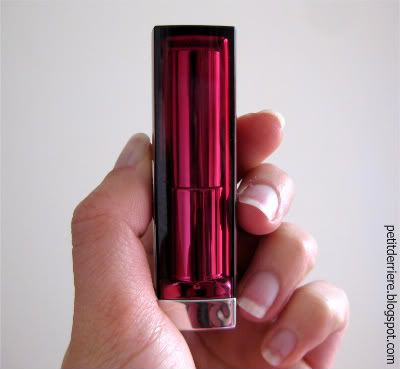 A while back, after seeing Youtube makeup guru, Hollyannaeree, rave about this lipstick, I HAD to have it! lol
It is a pale, slightly blue-ish tone pink, with maybe a tinge of peach. It has medium pigmentation and no shimmer. The colour looks very pretty and I so wanted it to work for me, unfortunately, it doesn't suit me. I have a bit of a tan and very strong yellow undertones to my skin and this just washes me out.
And to add my 2 cents worth to the debate about the smell of this lipstick. Some people have said that it smells nice while others say it smells like Play Doh. I find that my lipstick smells kind of sweet, vanilla-y and coconut-y.
I'm going to work with this a bit more and see if I can make this work. I will update you guys if my opinion on this changes at all.
By the way, some of you may have noticed, a few days ago I changed my blog profile pic. Thought it was time for a change =) It's just a picture of me doing a bit of cam whoring before heading off to a Christmas party lol