We only have a little over a week to go! ARGH lol
For the past week I've been running around getting Christmas presents, trying to fit in some time to go out and working. If you've been following for a while you would know that I work casual/part time at
Diva
. Since I've finished uni for the year and it's getting very close to Christmas, that means extended trading hours, more customers and more shifts. So I have been super busy and tired lol.
Despite buying presents being quite stressful, one thing I love is that it gives you the opportunity to check out and try a bunch of more expensive items that you wouldn't normally. For example I rarely buy high end makeup, but around this time of year you have an excuse to visit those counters and some of the time, sales assistants are more helpful than usual because they are desperate to meet their increased Christmas budgets lol.
Over the next few days I'm going to
try
to find some time to dish out a bunch of long overdue posts.
For now I'll leave you with some photos of Christmas decorations from the shopping centre where I work.


How funny is this Christmas tree?!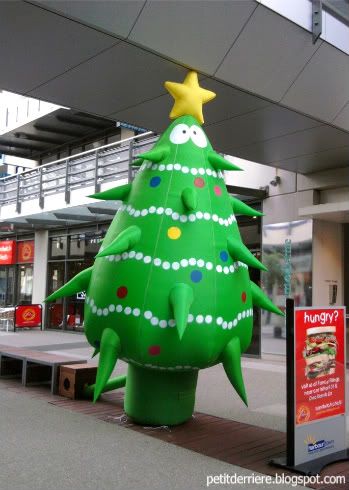 Santa is the centre piece of all the decorations. He is so BIG! You can see the person on the side is only as tall as his boots!