I received some lovely Christmas presents from my sister this year (as always).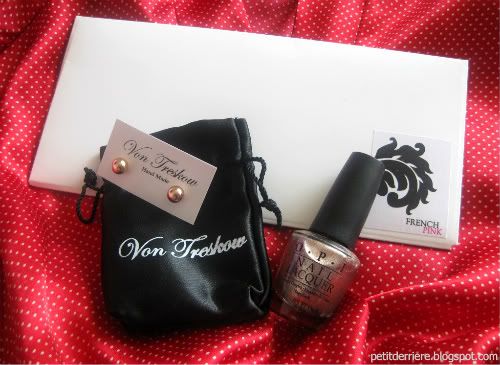 Rose gold studs

by

Von Treskow

. I have been obsessed and always on the lookout for rose gold anything ever since I got my Fossil rose gold watch. I absolutely love these. They are basic ball studs and they are a good larger size so they make a bit of a statement.

OPI Designer...De Better!

from the Muppets Collection. This colour is so gorgeous! I love foiled-finish polishes and love gold tones. No doubt, a winner in my book.

French Pink

voucher for a

Mademoiselle expr

és

manicure and a

French Pink Essential

pedicure. I have never had a professional manicure or pedicure in my life so I'm a bit anxious but very excited. Now just have to find the right time and occassion to use the voucher.

Satin robe

. Yes, that luxurious, satin, red with small white dot pattern background is in fact a robe lol. It looks and feels so amazing and luxurious on my skin. When I sit down to do my hair and makeup for special occassions, I always throw on an old button-up shirt I have, so it's easy to change out of without ruining all your hard work. So this is definitely an upgrade haha. Can't help but feel rich and sexy in this!
Thank you sister! =P
Enjoy your weekend!