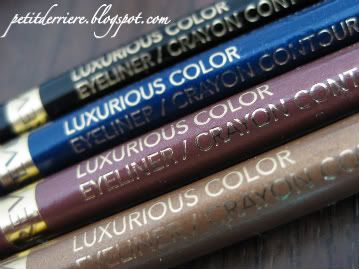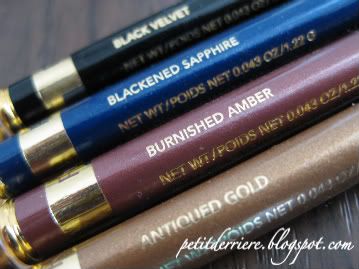 Last week Priceline had a clearance of selected
Revlon
items for only $4.99! so i bought 3
Luxurious Color Eyeliners
in
Antiqued Gold
,
Burnished Amber
and
Blackened Sapphire
. I also have
Black Velvet
which I bought a long time ago. The normal price of these pencils is $20.95.
i have swatches for you guys below. These pencils go on really smooth and have a smudger at the end which is really good for creating smokey looks. I love the 3 coloured ones because the colours are just so pretty with a bit of shimmer! However they are rather smudgey, but i guess they're meant to be since they have a smudger. It doesn't bother me if a coloured eyeliner is smudgey because I usually just use it under my eyes and it's not an essential I use everyday. The black one on the other hand, which is an essential for everyone, is WAY too smudgey. It migrates all the way up my lid. Plus i don't find the black to be a true black. When you smudge it, becomes a blue/black colour which I am not happy about.
I highly recommend the 3 coloured ones and as for the black one, I'm sure there are many eyeliners out there with better staying power.