Hey guys! Sorry I've been away for a while and my posts are getting SOOO behind. I even got a haircut a few weeks ago and haven't even loaded those photos up :S I'm actually in the middle of exams at the moment, 2 down, 2 to go. So far it doesn't look good and I'm fairly certain I'll be repeating some units next year *sigh.*
Anyway, I wanted to get this post up as fast as I could even though I have hauls from months back that I haven't posted about yet. I just thought this would be good to put up first because everything I bought are full priced items and you guys can still get most of them now. Whereas most of the other things I've bought are sale items hence you'll unlikely be able to find them.
So this was my first time ordering from
Forever21
. I didn't get many things because I wasn't sure about their quality/sizing, the shipping cost is quite expensive for international orders and they limit you to only 20 items and I was ordering with some friends.
Ordering & Delivery
I ordered on the 14th Nov, my order status changed from "new" to "packaged" on the 21st and then some hours after that, it changed to "shipped." From there it took 4 days to arrive (Melbourne, Australia). I got a tracking number which was great and I was able to track my package's exact whereabouts.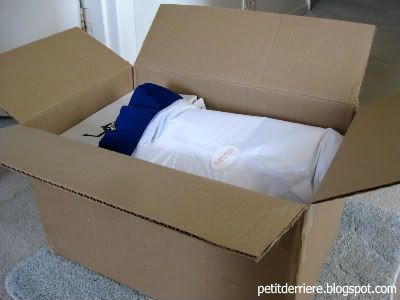 Packaging
When I opened my order everything appeared to be carefully packed into the box. However I wasn't too impressed with all the clothing roughly folded and just rolled up in some tissue paper. Compare that to
ASOS
where each item is perfectly folded and has its own individual plastic wrapping.
Here's what I bought: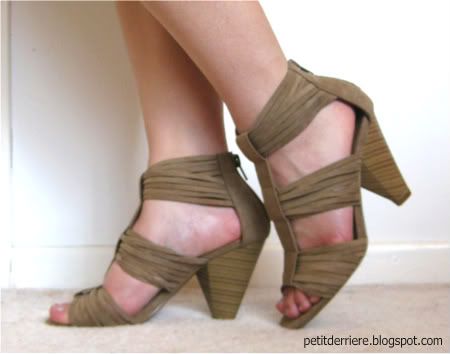 Dana Stacked Heels


Taupe
They fit me perfectly. Around the ankle is a tiny bit tight but I guess that's how they're meant to be so you don't slide all over the place lol. On the site they appear to be a tan brown colour, but in person, it's hard to describe, more like a faded browny colour, which I'm not crazy about. My photo is a pretty good representation of the colour. Despite that I really like these.
They also come in black now!



Crochet Embodied Skirt


Very pretty and girly high waisted skirt. Love it! However I see it being a pain to wear, since I'll have to be really careful not to get any dirt on it since it's white and kind of woolly.
I can't find this top online anymore so it must be out of stock.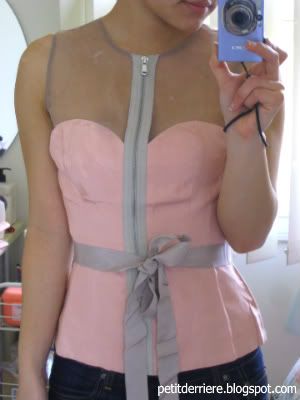 Sheer Yoke Top


I was really excited about this top. But I find it a bit out of proportion. On the site I found the way the model was standing a bit odd as she had her arms pinned against her body (pretty much how I am above), but now I know why. The length and the waist fits pretty well. But the bust/chest area is too big. I have a very small bust, but I still think that it would be too big for an average person. The picture below doesn't quite show how loose it really is, but I could pull that much out on both sides. I can't really get away with it since it really sticks out, but I might try and fold it under and sew it.


Look how cute this tag is!! It belongs to the top. So adorable I had to share lol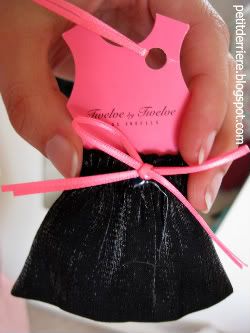 Price & Quality
From the things I got, in terms of quality, I would say the skirt and the shoes are pretty good and the top is reasonable. The shirt I bought my mum looked cheap and not good quality at all. The prices are very good and cheap compared to clothing prices here. But pretty much everything in the States is heaps cheaper than here.
Hope you guys can excuse my extremely dirty mirror. I swear I cleaned it straight after I took these photos lol.
Overall, I'm happy with my purchases. Will probably do another order in the near future and take advantage of how amazingly strong the Australian Dollar is right now ;P