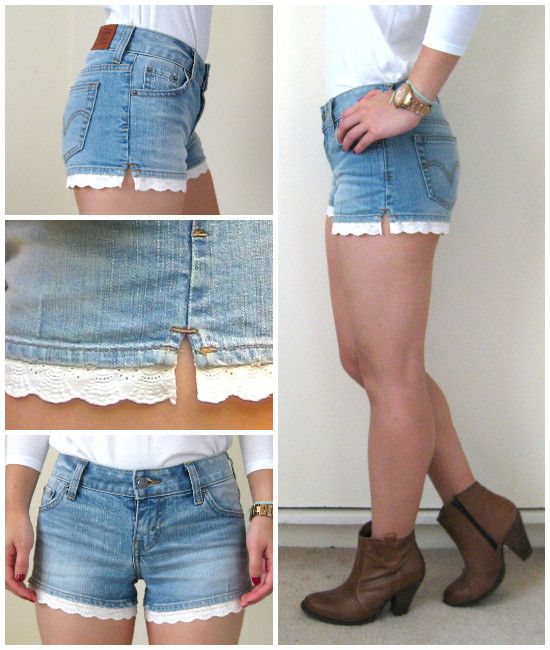 This is a really simple and easy way to change up the look of some basic shorts, or in my case, to make my denim short shorts a bit longer to help cover up my saggy butt action which was peaking out the bottom (not a good look lol).
You can also use this technique on skirt hems, sleeves, anything!
All you will need is:
Pair of shorts
Length of lace or broderie (I chose broderie because I thought it would be a bit more durable than lace. I bought mine from Lincraft.)
Tape measure
Needle and thread/sewing machine
Pins
Preparing the broderie/lace
1.
Measure the circumference of the leg of your shorts and cut a length of broderie/lace which is about 3cm longer.
2.
As you can see, the top edge of the broderie hasn't been finished off and so is fraying, so I needed to fix that up. (To save time you can just buy some lace/broderie where the edge is already cleaned up)
Fold the top edge over twice, pin it in place and iron it so the edge is crisp (as shown in the picture below). I also did this to the 2 ends of the broderie.
3.
Using a sewing machine, sew in a straight line on the edge of the folded parts to secure it down.
Attaching the broderie/lace to the shorts
4.
Turn your shorts inside-out.
5.
Pin the broderie in place
6.
Sew the broderie onto the bottom edge of your shorts. I chose to do this by hand with a zig-zag kind of stitch (sorry I don't know technical names lol) so that the stitching wouldn't be visible from the outside.
7.
Turn your shorts back the right-side-out and you're done!