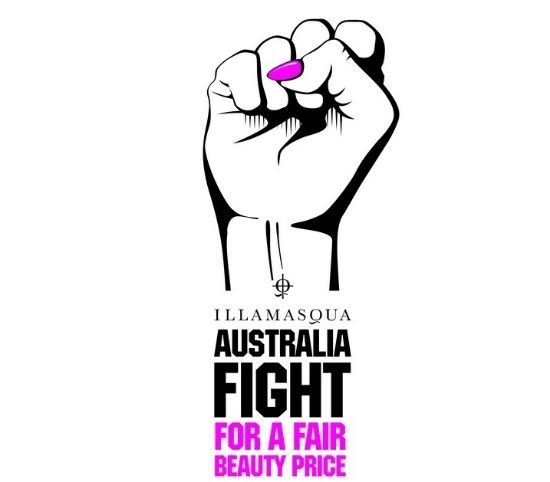 I'm pretty late on the bandwagon for this campaign. I believe it started about 8 months ago. So for those of you who haven't heard about it, Illamasqua is basically campaigning against the ridiculously high prices that us Aussies have to pay for beauty products in comparison to other countries. They have started a petition to put pressure on other cosmetic giants to lower their prices have also slashed the prices of their own products in Australia permanently. (Click
here
to learn more and to sign the petition.)
Personally I think that this is a fantastic campaign. I completely agree that Aussies are paying far too much relative to the rest of the world. Plus it seems even more ridiculous at the moment when the Australian Dollar is performing so well and is worth more than the USD (conversion rate 9 April 2013: USD$1.00=AUD$1.04). Here's what I mean:
Prices as at 3 April 2013

| Product | US Price | Aus Price |
| --- | --- | --- |
| Revlon Super Lustrous Lipstick | USD$7.99 | AUD$21.95 |
| Revlon Colorstay Makeup (Foundation) | USD$13.00 | AUD$34.95 |
| MAC Studio Fix Fluid Foundation | USD$27.00 | AUD$49.00 |
| Bobbi Brown Creamy Concealer Kit | USD$33.00 | AUD$60.00 |
Some have called this campaign a marketing stunt and if they truly believed in the cause, they would just reduce their prices without all this attention-seeking publicity. Well, why
not
make some noise about it? Bring it to the attention of the public and unite those with the same belief. And most importantly, they slashed their prices! I don't know about you, but I sure as hell would want to know about that.
Others have also called this a scam because there is a line in the petition that says
"If...the petition is successful I promise to continue to buy Illamasqua products in Australia."
i.e. By signing, you have signed away your soul and now
must
buy their stuff. Come on, I highly doubt that Illamasqua is going to send a little Cosmetics Policeman over to Australia to ensure you keep this promise. If you want to buy some Illamasqua products at a reduced price, go for it. If you don't, then don't buy anything. You can still sign the petition and support the cause without the weight of the law coming down on you. Chill.
Bottom line, Illamasqua is still a business, marketing = sales, cheap prices = sales.
I strongly support the cause and now I can try some of their products (which I've been wanting to do) at reasonable prices. I ain't complaining.