Over the Easter long weekend, I went shopping at Highpoint. The end of season sales were winding up so I managed to get my hands on some pretty awesome bargains.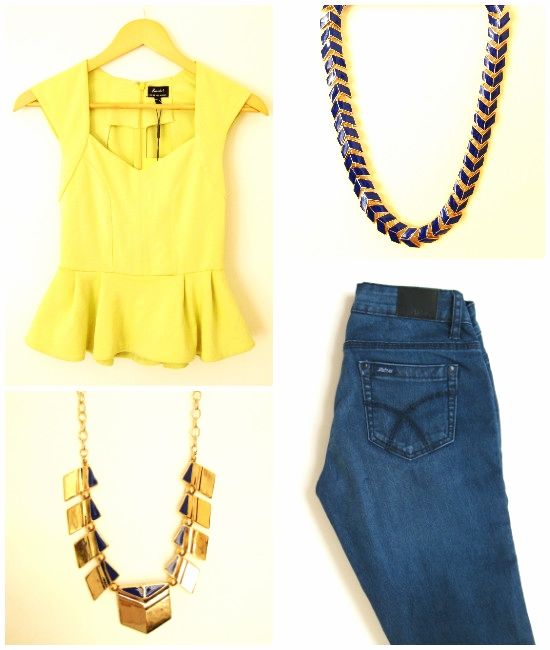 Lime peplum top
from
Bardot
- Was $59.95
Now $20
"Hi my name is Pauline and I'm addicted to peplum tops." I can't get enough of them, I probably have about 5 tops with peplum detailing. I love the colour, it looks great with my skin tone. The neckline looks so darn good too haha. I've only ever tried this neckline once on a dress and it looked terrible, but for some reason this one looks great.
Riders by Lee skinny jeans
from
Myer -
Was $109.95
Now $42
I already had a pair of Riders by Lee jeans and they were so comfortable and super stretchy. So this purchase was a no brainer with the sale price.
Gold and blue statement necklaces
from
Equip
-
(top) Was $16.99
Now $4.25
(bottom) Was $14.99
Now $3.25
These discounts are ridiculous!! End of season sales in fashion jewellery stores like Diva used to be awesome with huge markdowns, but in recent years, they've been pretty stingey (I would know, I used to work there =P). So I was mind-blown when I saw these prices at Equip. I probably need to pay Equip a visit more often.
Now for la pièce de résistance, I actually bought these before the long weekend. My friend had a $50 off voucher for Jo Mercer which she didn't want and I'm a Jo Mercer kind of gal. Put 2 and 2 together and I came home with a new pair of boots haha.
'Charity' ankle boots
from
Jo Mercer
- Was $179.95 With voucher $129.95