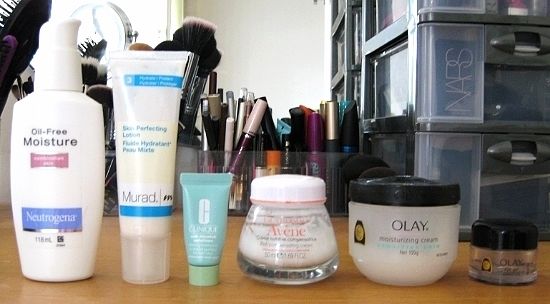 I'm sure everyone has this issue. Using something, having that itch to buy something new, buying a new item and abandoning the other. I've been having this issue with my moisturisers (amongst other things, but let's just ignore that lol).
Since I keep buying and using new ones, I've ended up accumulating a few that have a little bit of product left in them, but I've just never gotten around to finishing them. My skin type has changed a bit lately so I really want to try some new stuff, but I'm forcing myself to use these up before opening any new ones that I've already bought or going and buying some more. I figured posting this would make it more official and hence make me keep my word.
Here's the line-up:
Neutrogena Oil-Free Moisture for Combination Skin
Murad Skin Perfecting Lotion
Clinique Anti-Blemish Solutions Clearing Moisturizer (sample)
Avene Rich Compensating Cream
Olay Moisturizing Cream for Sensitive Skin
Olay Eye Gel
I'll probably write a short review for each as I finish them.